HubSpot CRM is a set of tools that allows marketers to stay in touch with their contacts. The basic CRM includes the contact database, email and chat marketing along side free tools from Marketing, Sales, Service and operation sections which are all well-known HubSpot software. And yes, you get to experience all sections of HubSpot's software for free before deciding to subscribe for more advanced packages.
The HubSpot CRM includes features like:
-Contact Database: This will contain all of your contacts, their information and any notes you want to keep on them. It's an organized list of people who can be contacted for one reason or another. You can use this list to see who you have already contacted or who you need to contact again soon.
-Email Marketing: It's a tool that enables companies to send emails at scale and measure the results—whether it's sales, conversions, click rates, etc.—so they can find out which emails are most effective and what kind of content people like
-More Free CRM tools:
Is HubSpot free CRM really FREE?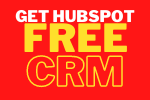 Here are the features that are included with the free version:
Contact website activity
Companies
Deals
Tasks & activities
Company insights
Gmail and Outlook integration
App Marketplace integrations
Custom support form fields
Prospects
Ticketing
Forms
Ad management
Shared inbox
Reporting dashboard
Email templates
Canned snippets
Documents
Calling
Meeting scheduling
Messenger integration
Custom properties
How to get started with HubSpot CRM?
HubSpot is a platform that connects your marketing, sales, and services tools to a unified CRM database. Use the guides below to help you get started with the basics.
Create your free account and Set up your HubSpot:If you're setting up a new HubSpot account, learn how to create your account, invite your team, and customize your default settings. If you use any third-party apps, you might also want to connect them to your account to integrate your systems.
Create your account:There are multiple ways to create a HubSpot account. The most common method of signing up for HubSpot is with your name and email address. You can also sign up for HubSpot using your Google login or Apple ID.
Having trouble getting started with HubSpot? Here's a complete guide that provides you with step-by-step setup instructions.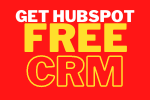 Free and paid tools and more you could benefit from:
The limits of your free account:
HubSpot's free tools offer many "lite" versions of select tools featured in our paid products. There are limits to your free HubSpot account, which differ by feature. HubSpot Product and Services Catalog
You can add up to 1,000,000 contacts to your free HubSpot account
There are several types of support available to free HubSpot CRM users. HubSpot offers support for many languages including English, French, German, Japanese, and Portuguese. For the full list of languages HubSpot supports, view HubSpot's language offering.
Free HubSpot users can chat with fellow software users in HubSpot Community, sharpen their skills in HubSpot Academy, and get expert advice on HubSpot tools in the Knowledge Base.
If you like all the free tools and support from HubSpot and are ready to take the next step for your business with HubSpot, explore more with paid tools to combine with your CRM tools to maximize your business outcomes! Including Marketing Hubs, Service Hubs and more.
One of the factors that makes HubSpot CRM so great is that it is free and easy to use. It could be customized to fit your own business model and goals by adding in the necessary features that you need.
The CRM tool can be accessed from any device, including laptops, desktops, tablets, and smartphones. The user interface has been designed for simplicity so that it can get new users up and running with just a few clicks. Start your HubSpot CRM journey today, for free!